COMING DOWN THE PIPELINE
I am currently sold out of didgeridoos but I'm working on more.  In the meantime, if you have any questions about purchasing a custom didge, feel free to email me at didgegnome6@gmail.com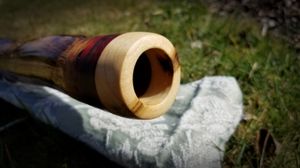 ABOUT BLUEWOOD
In early March of 2007, I went to a didgeridoo making workshop in Olympia, Washington. I loaded up the three yucca stalks I had into my car and drove 60 miles south from Seattle to learn how to make a didgeridoo. It was cold and snowed like crazy but we had an amazing time and I came away with a new love of making instruments. Since then, I've been making didgeridoos from yucca and agave for people who want a high quality instrument they can grow into. 
Each instrument is handmade from start to finish with just hand tools. The only exception is making mouthpieces with a battery powered drill. It's a way I love working because, I get to know the wood on a more intimate level which then guides me to bringing out the best of each instrument.  Once they are hollowed out, I finish them with a non-toxic food grade epoxy resin for better sound and durability. Each didgeridoo comes with a custom-made carry bag for easier transport and protection when you travel with your instrument. Below are some of the instruments I've made. If there is something you see that you like or if you have any questions , <span style="color:#b2a676;">send me an email</span>. I'd love to hear from you and see how I can help. 
Thank you for stopping by!